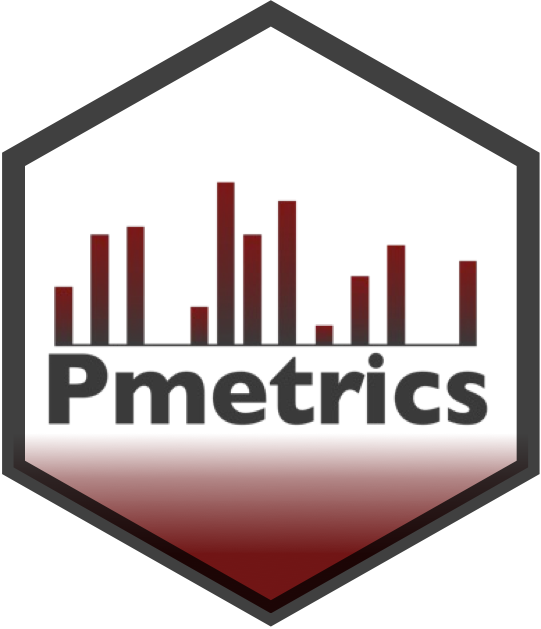 Defines the PM_model class
Source:
R/PM_model.R
PM_model.Rd
PM_model objects contain the variables, covariates, equations and error models necessary to run a population analysis.
Details
PM_model objects are passed to PM_fit objects to initiate a population analysis. The object is created by defining a list of lists directly in R, or by reading a model text file in the current working directory.
Examples



## ------------------------------------------------




## Method `PM_model$update`




## ------------------------------------------------







mod2

 

<-

 

modEx

$

clone

(

)

 

#create an independent copy of modEx called mod2




mod2

$

update

(

list

(


  pri 

=

 list

(


   Ke 

=

 ab

(

0

, 

1

)

, 

#change the range


   V 

=

 

NULL

, 

#this deletes the variable


   V0 

=

 ab

(

10

, 

100

)

 

#add a new variable


  

)

,
  sec 

=

 

"V = V0 * WT"

 

#add a new secondary equation




)

)




#note that they are different now




mod2




#>

 $model_list


#>

     $pri


#>

       $Ka


#>

          $min: 0.1


#>

          $max: 0.9


#>

          $mean: 0.5


#>

          $sd: 0.133


#>

          $gtz: FALSE


#>

       $Ke


#>

          $min: 0


#>

          $max: 1


#>

          $mean: 0.5


#>

          $sd: 0.167


#>

          $gtz: FALSE


#>

       $Tlag1


#>

          $min: 0


#>

          $max: 4


#>

          $mean: 2


#>

          $sd: 0.667


#>

          $gtz: FALSE


#>

       $V0


#>

          $min: 10


#>

          $max: 100


#>

          $mean: 55


#>

          $sd: 15


#>

          $gtz: FALSE


#>

 


#>

      $cov


#>

       $covariate: WT


#>

          $constant: FALSE


#>

 


#>

       $covariate: AFRICA


#>

          $constant: FALSE


#>

 


#>

       $covariate: AGE


#>

          $constant: FALSE


#>

 


#>

       $covariate: GENDER


#>

          $constant: FALSE


#>

 


#>

       $covariate: HEIGHT


#>

          $constant: FALSE


#>

 


#>

 


#>

      $lag


#>

        [1] "TLAG(1) = Tlag1"


#>

 


#>

      $eqn


#>

        [1] "{algebraic: Ka,Ke,V,2}"


#>

        [2] "dX[1] = BOLUS[1] - Ka*X[1]"


#>

        [3] "dX[2] = RATEIV[1] + Ka*X[1] - Ke*X[2]"


#>

 


#>

      $out


#>

       $Y1


#>

          $val: "X[2]/V"


#>

          $err


#>

             $model


#>

                $additive: 


#>

                $proportional: 5


#>

                $constant: FALSE


#>

             $assay


#>

                $coefficients: [1] 0.02, [2] 0.05, [3] -2e-04, [4] 0


#>

                $constant: FALSE


#>

 


#>

 


#>

 


#>

      $sec


#>

        [1] "V = V0 * WT"


modEx




#>

 $model_list


#>

     $pri


#>

       $Ka


#>

          $min: 0.1


#>

          $max: 0.9


#>

          $mean: 0.5


#>

          $sd: 0.133


#>

          $gtz: FALSE


#>

       $Ke


#>

          $min: 0.001


#>

          $max: 0.1


#>

          $mean: 0.051


#>

          $sd: 0.016


#>

          $gtz: FALSE


#>

       $V


#>

          $min: 30


#>

          $max: 120


#>

          $mean: 75


#>

          $sd: 15


#>

          $gtz: FALSE


#>

       $Tlag1


#>

          $min: 0


#>

          $max: 4


#>

          $mean: 2


#>

          $sd: 0.667


#>

          $gtz: FALSE


#>

 


#>

      $cov


#>

       $covariate: WT


#>

          $constant: FALSE


#>

 


#>

       $covariate: AFRICA


#>

          $constant: FALSE


#>

 


#>

       $covariate: AGE


#>

          $constant: FALSE


#>

 


#>

       $covariate: GENDER


#>

          $constant: FALSE


#>

 


#>

       $covariate: HEIGHT


#>

          $constant: FALSE


#>

 


#>

 


#>

      $lag


#>

        [1] "TLAG(1) = Tlag1"


#>

 


#>

      $eqn


#>

        [1] "{algebraic: Ka,Ke,V,2}"


#>

        [2] "dX[1] = BOLUS[1] - Ka*X[1]"


#>

        [3] "dX[2] = RATEIV[1] + Ka*X[1] - Ke*X[2]"


#>

 


#>

      $out


#>

       $Y1


#>

          $val: "X[2]/V"


#>

          $err


#>

             $model


#>

                $additive: 


#>

                $proportional: 5


#>

                $constant: FALSE


#>

             $assay


#>

                $coefficients: [1] 0.02, [2] 0.05, [3] -2e-04, [4] 0


#>

                $constant: FALSE


#>

 


#>

 





## ------------------------------------------------




## Method `PM_model$write`




## ------------------------------------------------







if

 

(

FALSE

)

 

{




modEx

$

write

(

"model.txt"

)




}